Rise above
eLitigation challenges
With exceptional advice, support and service
elaw is Australia's premier eLitigation consultancy
Technology is transforming evidence analysis, management, discovery and presentation – however, finding the right solution
and support can be challenging.
elaw's uniquely experienced teams support lawyers from firms of all types, managing matters of all sizes, across Australia and beyond.
We offer assistance through the entire eLitigation lifecycle, from early case assessment through to eCourts.
elaw's consultants ensure that the eDiscovery solution we recommend will be the best fit for your requirements. Whether you need a simple spreadsheet or access to the latest assisted review technology, we have the expertise, experience and software that will best fit your needs. elaw's eDiscovery solutions are procedurally compliant and focused on your needs, strengthening your case, and finding clarity in complexity, with the right advice, tools and support.
elaw's eCourts solutions deliver the most powerful, intuitive, and efficient evidence presentation and management experience to hearings, arbitrations, inquiries and mediations. Leveraging market-leading software and our experience in supporting hearings across the globe, elaw eCourts deliver a truly virtual hearing experience with capability for participants to do as much, or as little, as they wish.
We find the right fit for your needs
Our strong partnership with a range of market-leading technology providers gives us the power and flexibility to recommend and support the best solution for your needs. Whatever the solution, you can expect tailored workflows and methodologies paired with expert advice and exceptional support.
Support for every aspect of the eLitigation lifecycle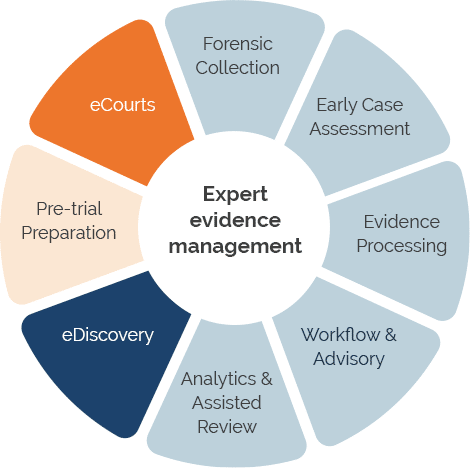 Expect market-leading solutions
backed by years of experience​
Our dedicated team of lawyers, technologists, project managers and analysts work seamlessly to deliver best-fit solutions and unmatched service to clients across Australia and beyond. With top-down commitment to innovation, quality, continuous learning and value, we deliver on our promise to provide a great workplace experience and exceptional client solutions.
Speak with one of our consultants
and find the solution that's right for you