elaw provides best-practice support for trials, mediations, arbitrations and government inquiries. Whether delivering single party support or whole of courtroom engagements, our eTrial team works with you through every stage of your trial.
We offer the full range of modern eTrial requirements – from the simple provision of an iPad loaded with an electronic Courtbook through to a full turnkey Courtroom, capable of supporting multiple parties and complex evidence presentation.

elaw electronic courtrooms replicate the best elements of the traditional trial processes and workflows, powered by easy to use software. Patent protected functionality allows litigators to work seamlessly with public and private versions of their evidence during hearings.
eTrial design
eTrial resource and project planning 
eTrial implementation 
Data management advice and strategy 
Trial graphics party support
Opening and closing submission support 
Cost containment strategies
Our eTrials respect traditional legal roles in the Courtroom and provide an automatic and comprehensive record of proceedings. Every elaw eTrial comes with the level of support that suits the litigators and the judicial team.
Delium Evidence Presentation
We utilise Delium evidence presentation software to deliver the most effective eTrials for our clients. Developed in Australia, Delium is simple to implement and use and has been designed to support Australian legal practice and procedure. Delium's approach to eTrials is world leading and protected by patents both in Australia and the United States.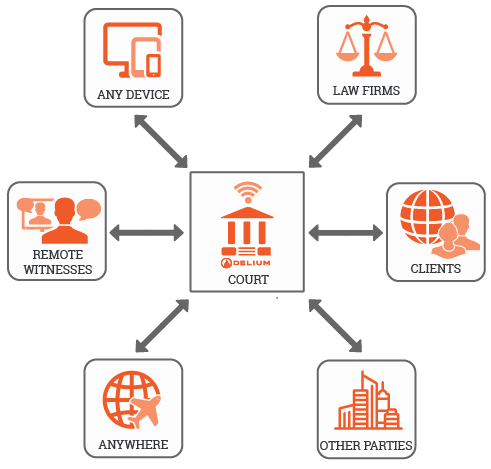 Seamless eDiscovery
to eTrial
Delium is a fully integrated environment, supporting review, discovery and presentation at trial with exclusive patent protected functionality enhancing the quality of justice and containing costs.
Any room can
host an eTrial
Delium is clever Internet-driven software – all participants need is a device and access to the Internet. Forget costly cabling, switching technology or special hardware.
Delium is a
virtual trolley
Everything you need at trial can be loaded and available in Delium – Evidence, Procedural Documents, Witness Statements, Transcript, Pleadings, Orders & Rulings, Cited Cases, Aide Memoirs and Submissions.
Delium recognises traditional trial processes and workflows
Delium reinstates the best of the traditional courtroom, delivered via a simple software interface. Litigators can take back control of proceedings to whatever extent they feel comfortable.
eTrials have turned lawyers into passive recipients of the evidence shown to them. When evidence is published in Delium, each participant is able to navigate the document, and annotate and analyse their own private version.
Remote lawyers, clients and witnesses are virtual attendees
Delium's published view window automatically updates with the evidence shown, enabling your remotely-based team to keep track of proceedings as if they were in the Courtroom.
All devices, all browsers and 300+ file formats can be displayed
Delium supports the use of any Internet-connected device (PCs, tablets, iPads and phones). Portrait screen or landscape screen – Delium adjusts to your available display space.
Delium automates production of the Court Record
Every document presented, every page viewed, every zoom to a paragraph, every "X marks the spot" is automatically recorded (to the second) as part of a comprehensive Court record.
Delium automatically creates hyperlinks to Exhibits and other evidence in Witness Statements, Submissions and Transcript loaded in Delium.